UK: Delhi based Senior Journalist, Jarnail Singh who famously threw his shoe at the Indian Union Home Minister, Mr. P. Chidambaram in 2009 as sign of protest over the anti Sikh Violence if 1984, during a live press conference, gained worldwide publicity.
His recent visit to the UK prompted International Panthic Dal to meet him, and ask him firsthand about his book' I Accuse'….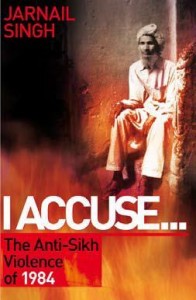 The book outlines case studies of the victims of the 1984 pogroms of Delhi, the continuing shadow it casts over their lives, the failure in the Indian Judicial system to bring the culprits to justice, naming Indian MPs who are the accused, why Jarnail Singh hurled his shoe and the immediate political effect to the ruling establishment after.
Many have written about the Delhi Pogroms of 1984 but for the past 27 years little has come about in way of a reputable writer, with fact finding evidence and having his work spotlighted by world renowned printers. However Senior Journalist Jarnail Singh, his work and publishers Penguin, fitted all three categories.
Keeping this in mind International Panthic Dal distributed Jarnail Singhs book 'I Accuse'.. to a selected 250 British MPs, and to selected personalities in the U.S.A.
Each of the 250 British MPs and others in USA all were sent along with the Jarnail Singhs work, a bookmark with 5 pictures of the Delhi pogroms and a covering letter informing the recipient why they have been chosen to be offered the book, a background to the 1984 Delhi pogroms and reminding them who Jarnail Singh is.
By distributing the 250 plus books International Panthic Dal sees this as a means of providing education and information about the anti Sikh violence in Delhi and other parts of India during November 1984. As the guilty are still roaming free and some are serving in high posts in the current Indian Government, after reading 'I Accuse' all 250 British MPs we hope, will be familiar with the names of the Indian MPs who have been accused in anti Sikh violence, and the failure even after 27 long years by the Indian State machinery to bring justice to the victims of November 1984.