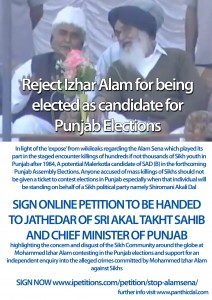 Who is Mohammed Izhar Alam and why is this causing such a storm within the Sikh Diaspora and Sikhs in India particularly Punjab.
His name first came to prominence back in February 1986 when during a peaceful protest by Sikh Students in Nakodar, Jallandhar, without provocation 5 were shot dead, Mohamaed  Izhar Alam was SSP (Senior Superintendent of Police) at the time of that area, the bodies of the dead were all burnt with petrol by the Police under his command without knowledge of the victims families and the ashes were never given back to the relatives of the deceased.  The Chief Minister at the time and many MLA's knowing what had happened did little to give justice to the families.
It was while he served within Punjab Police, that the extrajudicial killings of Sikhs in Punjab was at its peak, many local, national and International human right groups found and publicised many cases of Sikhs being victims of extrajudicial killings/false encounters.
For the people of Punjab Mohamamed Izhar  Almams name is infamous, it was common knowledge that police
disguised as militants would not only infiltrate militant groups and eliminate them from within but also the harassment and killings of sometimes whole families would be carried out by them (Punjab Police).
The truth finally came out, but to people of Punjab it was no surprise.  A recent "expose" by Wikileaks mentions the existence of "Alam Sena". (army of Momhamed Izhar Alam)
The communication, referred as "cable", sent by New Delhi based US Embassy on December 19, 2005; released by Wikileaks, mentions the existence of "Alam Sena". This "cables" is in response to certain issues and specific questions relating to the extradition of a Sikh male from US to India. In response to question posed by "Department" asked for "post's" assistance in reviewing the assertions contained in Barapind's submission that – (b) one of the policemen allegedly responsible for Barapind's torture in 1988 has been promoted to the senior ranks of the Punjab police force, it is mentioned in the cable that:
"With regard to former Senior Superintendent Punjab Police (Jalandhar) Mohammad Izhar Alam, we can confirm that he now holds the position of Additional Director General (Administration) Punjab Police, a senior police posting. During the insurgency, he assembled a large, personal paramilitary force of approximately 150 men known as the "Black Cats" or "Alam Sena" ("Alam's Army") that included cashiered police officers and rehabilitated Sikh terrorists. The group had reach throughout the Punjab and is alleged to have had carte blanche in carrying out possibly thousands of staged "encounter killings." (NOTE: Former Director General Punjab Police KPS Gill publicly praised the group, saying the Punjab police could not function without them. End Note.) Herkewaljit Singh told us that Alam was "at the top of the list" in authorizing encounters during the insurgency period".
For the people of Punjab and especially the Sikhs who were the main targets of human rights abuses at the behest of Mohamed Izhar Sena, his canditure for the forthcoming assembly elections in Punjab has come with a huge shockwave throught all of Punjab.  Many Sikh groups and organisation in Punjab have publicly voiced their bemusement and disgust of this move. Anyone accused of mass killings of Sikhs should not be given a ticket to contest elections in Punjab especially when that individual will be standing on behalf of a Sikh political party namely SAD.
In light of the 'expose' from wikileaks regarding the Alam Sena which played its part in the staged encounter killings of hundreds if not thousands of Sikh youth in Punjab after 1984, we International Panthic Dal request the Sri Akal Takht Sahib and Shiromani Akali Dal (Badal SAD) to further investigate Mohammed Izhar Alam.
This petition will be handed over to Jathedar of Sri Akal Takht Sahib and the Chief Minister of Punjab to highlight the concern and disgust of the Sikh Community around the globe at Mohammed Izhar Alam contesting in the Punjab elections. Also the petition is in support for an independent enquiry into the alleged crimes committed by Mohammed Izhar Alam against Sikhs.