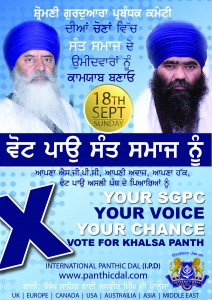 The International Panthic Dal (IPD) have rolled out a poster campaign in an effort to raise awareness within the Sikh masses of the need to vote for the Sant Samaj/Panthic candidates in the forthcoming SGPC elections – September 18th 2011.
IPD have created the poster which outlines the consideration the Sikh nation should make when going out to vote, this will hopefully get people thinking about the necessity of voting in these SGPC elections.
The poster campaign will be going out across all relevant media sections across the UK, European and International levels including appearing specifically in the Indian media.  It will also be channelled out across the web targeting social networking sites such as Facebook.
The Sant Samaj have been allocated a historical and exceptional 30 seats to contest from and IPD recognises this to be an opportunity of exceptional importance for the Sikh nation to create a positive change within the SGPC.
The simple message to all eligible voters in Punjab is; in order make a decisive change within the SGPC, come out to vote on September 18th 2011, a vote for the Sant Samaj is a vote for the Khalsa Panth.